​The Teledyne Hanson 14-vessel CD14 dissolution tester
CD14 Comparative ​Dissolution
​The Teledyne Hanson 14-vessel CD14 dissolution tester runs two methods simultaneously or independently—ideal for bioequivalence studies of generic vs. innovator drug formulations. The 14 stirring positions allow for 6+1 or 12+2 configurations for improved workload efficiency in R&D, formulations, QC, and stability-test labs.
Read more about the CD14 dissolution tester at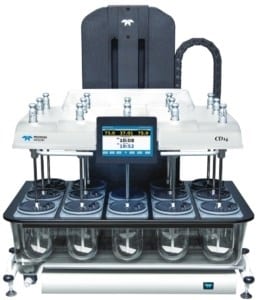 Contact us
We are ready to answer any questions you may have that you cannot find answered here on the website. So don't hesitate to call or write to us. We will be happy to have a completely non-binding chat with you about your plans.